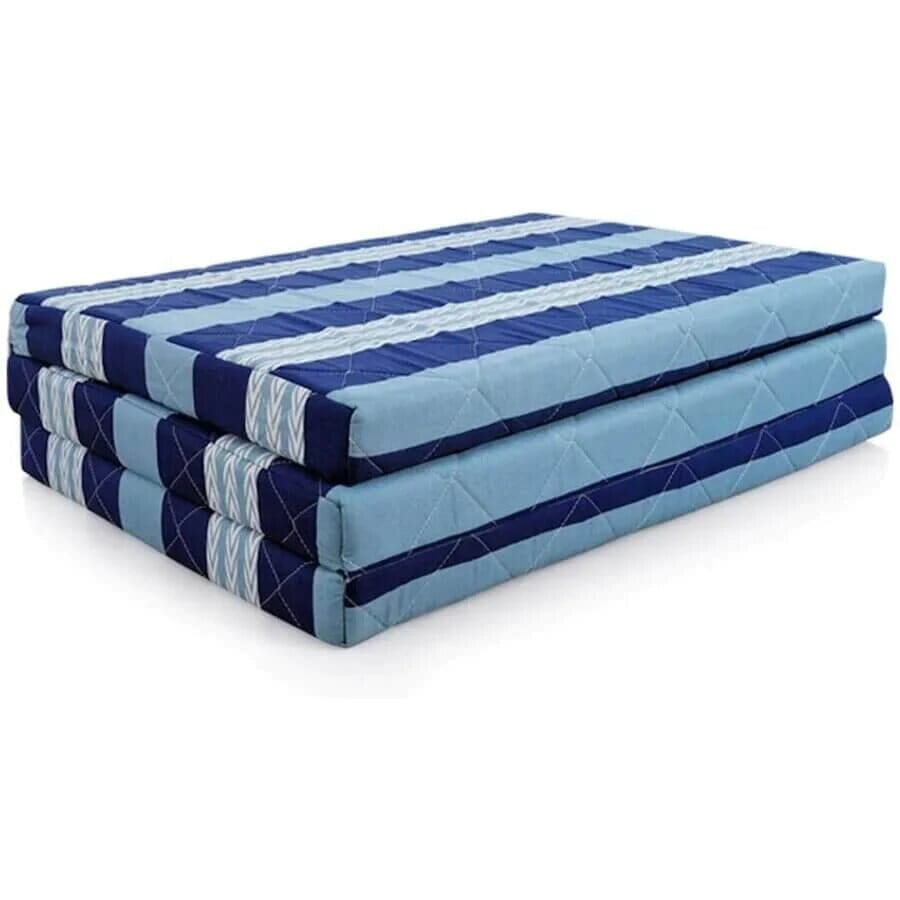 Posted on
---
There is no denying that a bed is the ultimate comfort zone of any home setting and what makes a bed a comfy and cozy spot for you is the mattress. With an update in furnishings every now and then, there is the easy availability of various kinds of mattresses in the market. With such a vast range of choices, one may find it quite confusing. This blog is purposed to highlight the best mattress for any household and thereby explain the benefits of using the same too:
Experience Unmatchable Comfort with Folding Mattresses
Folding mattresses are among the most often used types of mattresses. Providing you with the ideal combination of comfort and functionality, these mattresses are emerging to be customers' favorites. Folding mattresses like the
Home Canvas Foam Tri-fold Mattress
come in a soft texture and offer high breathability to give you unmatchable comfort. The foam used in the construction of these mattresses is renowned for providing soothing support while sleeping on them all night. The tri-fold mattress is also ventilated from the side to allow air to flow around freely and helps correct sleep posture.
Quality That Serves You for The Years to Come
The comfort that a mattress serves is highly dependent on the quality of the material used in the making. The folding mattress features a high-quality and dense foam that is 7 cm in thickness. With such a superior high-density composition, our genuine premium foam will maintain its shape. The folding mattress comes covered in a quilted jacquard and is well-ventilated from the side. The thick mattress feels soft to touch and comfortable to sit on. It additionally comes with a quilted, ultra-soft polyester cover and a convenient carry bag.
Portable Design for Easy Usage
With the Tri-fold Mattress, you may indulge in a sound sleep wherever you like. These mattresses come in an easily portable design which makes them a much more convenient option. To spread it, simply unfold the foam bed on the floor of any room or tent. It quickly transforms into a portable storage unit and is perfect to fulfil all of your sleeping demands. The Tri-fold Mattress is a great pick for instant sleeping arrangements like family reunions, unplanned overnight visits, camping, and other travels.
Enhanced Support with Orthopedic Mattress
Orthopedic mattresses like the
Clarion Bonnel Spring Mattress
for Beds are also much in demand due to the enhanced support these provide. If you are someone who suffers from back pain or joint pain, this will be the ideal buy for you. Having more than 200 springs in the build-up, this mattress employs the traditional suspension method which ensures a restful night's sleep. Besides this, the mattress has a 2.4 mm thickness, a firmer sleeping surface made of felt, and is padded with soft foam which works like a second layer of insulation. The mattress also comes with a high-density expanded polyurethane foam used on the sides, thus providing exceptional stability over time.
Perfectly-Sized Mattresses
The size of a mattress is one of the most important things to consider. Choosing
foldable mattresses
like Home Canvas Foam Tri-fold Mattress will be better in this case, since you can fold or unfold it as per your preferences. The dimensions for this however are 180 cm long, 90 cm wide, and 7 cm tall. The mattress dimensions when folded are likewise 60 cm long, 90 cm wide, and 22 cm high. Clarion mattresses are also available in two sizes. You may choose from single mattresses that come in dimensions 90X190cm or 120X200cm. Both the mattresses come with a thickness of 20 cm, making them neither too low nor too high - just perfect!!!
Perfect Solution for a Luxurious Sleep
While most mattresses offer good sleep, there are a few which provide the most relaxing sleeping experience. Folding beds like Home Canvas Foam Tri-fold Mattress and the orthopedic clarion spring mattresses for bed have a soft foam layer inside and all four sides of this spring mattress are further covered with 140gsm Jacquard fabric which lets you experience a luxurious sleeping experience.
Concluding Thoughts
Folding mattresses have recently become a preferred choice for versatile home settings. However, while buying these online one needs to be sure of the quality. Choosing trusted websites like
The Home Canvas
will let you lay hands on the finest
mattresses and pillows
that are not only high in quality but also deliver the most comforting sleeping experience.
Contact info
71-33RD FLOOR, PRIME BUSINESS CENTER, PRIME TOWER, BUSINESS BAY, DUBAI UAE 
Email: support@thehomecanvas.com
Phone: +971-505579129