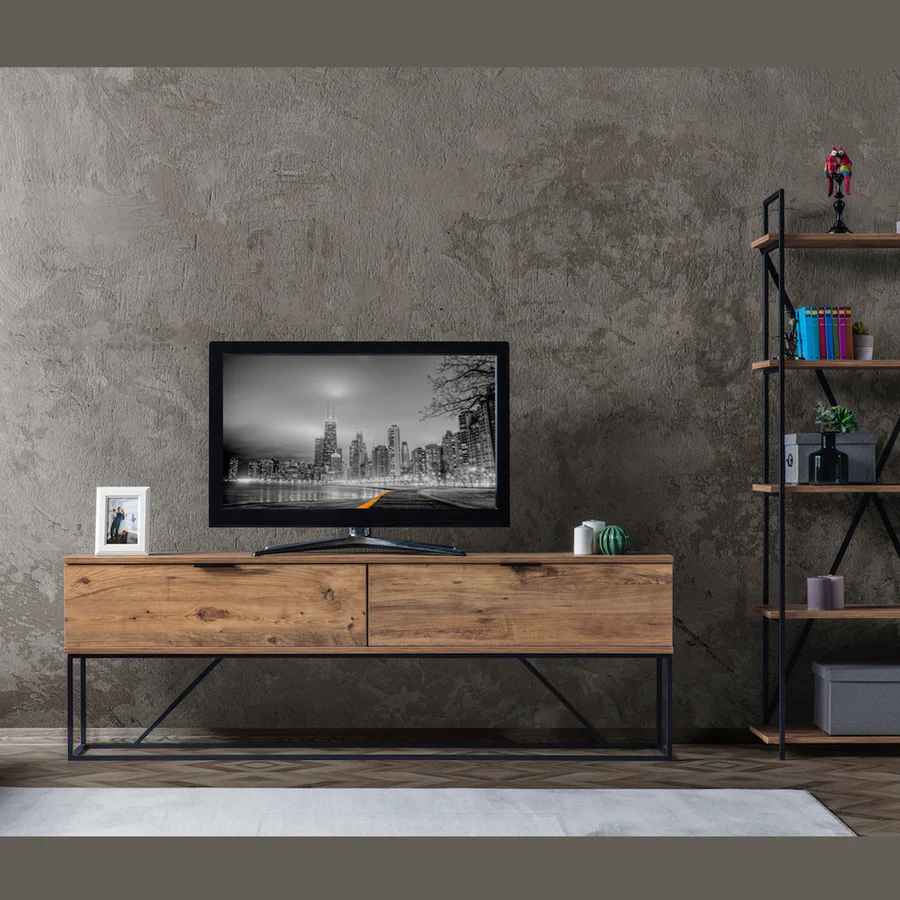 Posted on
---
Like any other piece of living room furniture, a TV Unit design has become an integral part of the living room. It is one of the most eye-catching objects and will most likely be the first thing your guests notice when they enter the living area. TV panel unit designs, which are available in several styles and approaches ranging from vintage and gorgeous to sleek and minimalistic, serve a purpose other than simply storing your television set.
There are a few things to consider while selecting a good TV unit arrangement. The layout and size of the room strongly determine the placement of the TV stand for the living room. One should also analyze the light source and the television's direction, try to lean the TV away from direct sunlight to avoid glare on the screen, it is crucial to consider that the TV unit design should include plenty of storage space for items such as subscription boxes, game consoles, lighting equipment, showpieces, and other accessories. A well-placed TV unit design and décor would be quite useful in concealing all the mess of wires and other unsightly technological stuff that no one wants to see. The Home Canvas brings startling Tars TV unit collection to binge watch your favorite shows and enjoy the leisure time with friends and family.
As a result, TV sets have become an essential feature of home interior design. It is a must-have piece of elegance. It can even significantly improve the aesthetic of your room. In any event, be sure that the construction of the TV set corresponds to the size of your living room.
Modern tv stand are slim in design and appealing in appearance. They are certainly more appealing than a plain table top for your brand-new plasma or LED television. In terms of style and slick design, this type of TV unit is an excellent complement to living room decor. The TV stand elevates your entertainment experience to a whole new level. Matching shelves and cupboards may instantly transform your TV set into the focal point of your living area.
The texture of your walls contributes to the elegance of your living space. Without any question, wooden tv stands are a popular material among house owners. TV units made of wood add color and visual distinction without interfering with the overall decor of your living space. Wood creates warmth and appeal, and such TV units have straight and clean lines. Consider the interior design and color palette of the home when selecting a TV cabinet design for the living room. Wood is a popular material for choosing the right TV cabinet because it comes in such a wide variety of textures, styles, and colors that you will be overwhelmed with options.
If those sleek TV stands are not your style and you need some color consider a TV wall unit. These are self-contained modules that make use of your living room space. These tall and wall-mounted units with a metallic or other shimmer frame are great for individuals who want to watch their favorite TV shows from the kitchen or dining room.
The storage option is one of the most significant factors to consider when selecting a TV unit. In city homes where space is limited, owning a sophisticated tv cabinet that lacks storage space is a negative investment if it does not solve the storage problem. Choose a tv unit with storage space for magazines, trinkets, and other small devices.
To summarize, TV unit design concepts are now your go-to resource for the most up-to-date TV panel designs. One does not even have to sift through many locations and concepts and must choose something that will work best in the home.
The Home Canvas
has a variety of
tv table stand
designs and
tv wall unit
layouts in various shapes and sizes; and may select one based on the requirement of the living space. A huge TV unit, for example, will stand out in a small living room with light-colored furnishings.
Contact info
71-33RD FLOOR, PRIME BUSINESS CENTER, PRIME TOWER, BUSINESS BAY, DUBAI UAE 
Email: support@thehomecanvas.com
Phone: +971-505579129