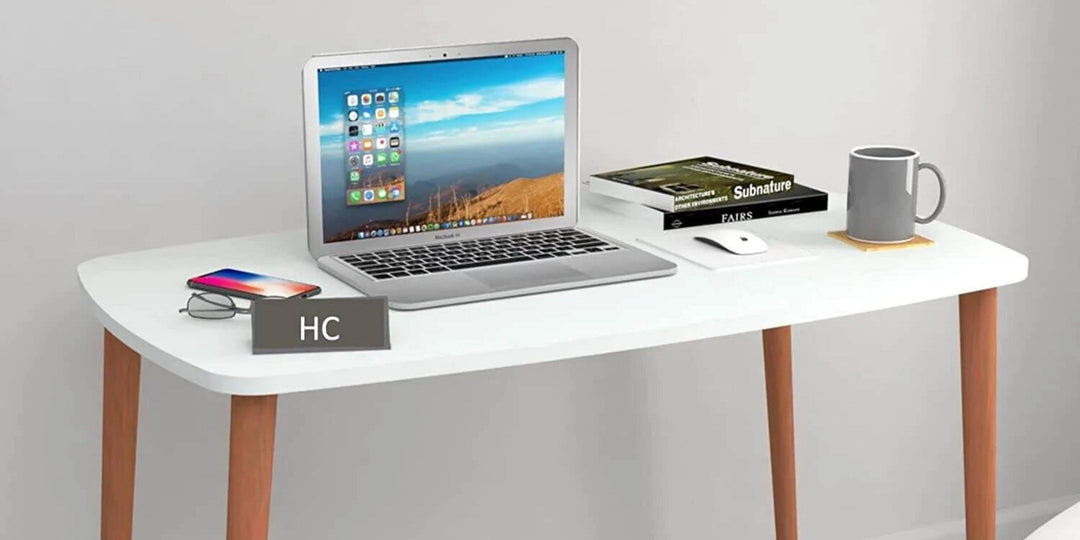 Posted on
---
The thing that one misses most while working from home is a professional office setup. By creating a comfortable home office setup, we can enjoy convenient working and increase our productivity. Choosing the right
home office desk
and chairs is important to give the realization to creating a perfect home office setting. Let's see here what you need to choose the perfect home office desk.
Things to Consider Before Buying Home Office Furniture Online
• Measure the space that you want to change
• Your desired working hours
• Personal sitting and working style
• Your budget
• Material of furniture
• The climate of your surrounding
Measuring the Exact Space to Convert into Office Cubicle
Knowing your accurate surface area would do a great job of setting up a convenient and stylish
home office computer desk
. You can consider whether you require tabletop lighting, a keyboard, two systems, and under-desk storage for UPS and accessories. You would also look for other requirements like the need for a bookshelf, printer, and green plant decoration. All these essentials require space, and one will have to assess how many things could be arranged in what area. This will help in making an uncluttered, well-lit, and smart-looking home office.
Dimensions You Would Love Most
Choosing the correct proportions of furniture according to your body height and weight can bring greater flexibility and comfort. If you love gaming, a rightly sized and heightened home gaming desk would be the best choice. One of the most popular gaming desks in the market are
Illia Study Gaming Desk
at The Home Canvas online store. Moreover, the home office furniture should perfectly align with your eye-viewing angle, legs, hands, and torso; to enable better maneuvering while sitting. With changing furniture market, emerging online stores like The Home Canvas are bringing an exquisite assorted range of modern office desks to offer a luxuriant home office setting.
Storage for Space-Saving and Organisation
Who likes cluttered homes or offices? Creating a unique cubicle or home office chamber is possible with a variety of home office furniture. You can consider vintage or modern home office desks with lots of storage. It will allow you to store accessories, headgear, books, and monthly magazines. A combo of open shelving and closed cabinet makes the best office setup in your home. If you are low on budget, you can consider buying desks with bookcases and drawers which will help you keep daily utility essentials at hand's reach yet organized.
Versatile Range of Home Office Desks That You Can Consider
There are a variety of modern and traditional desk designs you can consider for creating a perfect work atmosphere. If you live in the countryside, a nature-inspired vintage office desk would be a great choice for you while a
modern office computer table
would suffice the new chic setting of contemporary urban homes.
Location of Desk Matters A Lot!
Giving a thought to the location of the desk would do justice to the overall setting. You can choose a corner desk as it creates an illusion of a spacious room when most of it remains vacant. You can keep large planters with palm trees for a picture-perfect setting. A wall-mounted desk could be the best choice for small homes with least or no space for creating separate office space. These floating home office computer desks easily allow a streamlined and mess-free look. Nowadays, smart floating wall-mounted desks are coming with an integrated surface for laptops and gaming screens. Then, there are options for Credenza desks, folding desks, and ladder desks. One can choose the suitable style that goes well with the home interior, space, and dimensions.
If you are looking for stylish home office desks, computer desks, and home gaming desks; The Home Canvas can offer you the best options online. Get the perfect match for your needs at their online furniture store and revamp your home for convenient working from home.
Contact info
71-33RD FLOOR, PRIME BUSINESS CENTER, PRIME TOWER, BUSINESS BAY, DUBAI UAE 
Email: support@thehomecanvas.com
Phone: +971-505579129