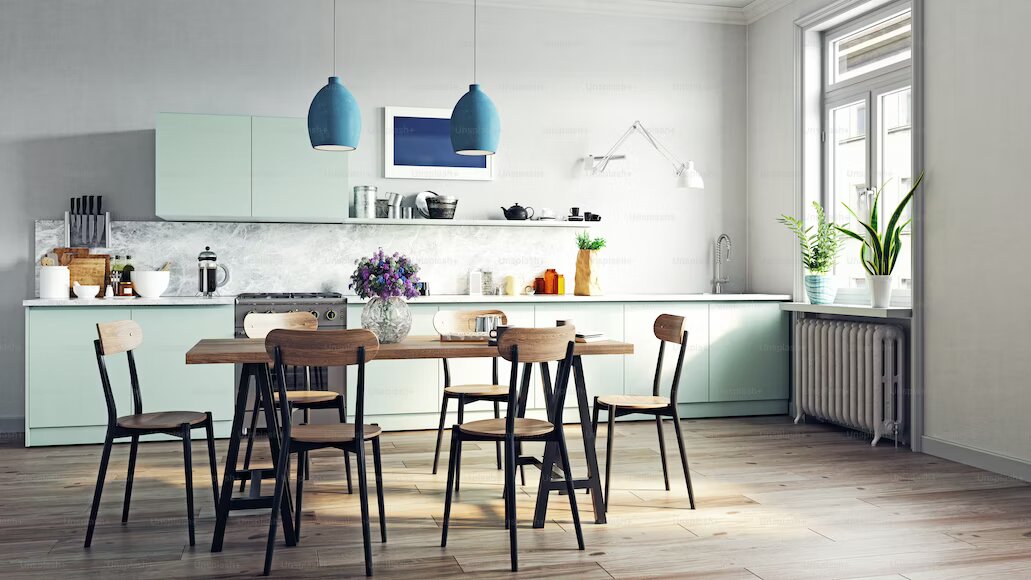 Posted on
---
Minimalism has emerged as an attractive trend in home design. Homeowners find refuge from clutter and chaos through this approach to interior decoration; our dining areas provide the ideal platform to embrace its minimalist aesthetics.

This blog explores the essence of minimalist dining, focusing on its ability to create an atmosphere of serenity and sophistication. We will examine the increasing trend of minimalist home design and its benefits for our living spaces and help guide you in selecting appropriate furniture, such as marble and black dining tables or versatile multipurpose tables.

Are you seeking to transform your dining area into a soothing sanctuary of clean aesthetics where simplicity meets elegance? Join us on this journey of exploring minimalist dining and furniture options for creating a minimalist dining experience that enhances home aesthetics and overall well-being.

Choosing the Perfect Dining Table

Selecting the right dining table is pivotal in curating a minimalist dining space that exudes elegance and functionality. As the centerpiece of your dining area, the table sets the tone for the entire aesthetic. Consider size, shape, and material when choosing the perfect dining table. Opt for clean lines and a simple design that complements your minimalist theme. A table with a sleek and uncluttered appearance will harmonize beautifully with the surrounding space.

Exploring Different Materials: Marble and Black Dining Tables

Minimalism celebrates the beauty of natural elements and subdued hues. Two striking options for a minimalist dining table are marble and black. Marble dining table, with its timeless elegance and unique veining, adds a touch of luxury to any space. A marble dining table effortlessly becomes the focal point of your dining area. On the other hand, a black dining table exudes sophistication and creates a bold statement in your minimalist design. Both choices blend seamlessly into a clean aesthetic, offering a stylish and refined dining experience.

Incorporating Multipurpose Tables for Versatility

In the spirit of minimalism, versatility is vital. Embrace the practicality of multipurpose tables that effortlessly adapt to various needs. These tables serve beyond meal times, allowing you to quickly transform your dining area into a functional workspace or entertainment hub. A foldable or extendable table provides flexibility, making the most of your available space while maintaining the minimalist charm.

Enhancing Your Minimal Dining Area with Thoughtful Furniture

Selecting Dining Chairs that Complement the Table

When creating a minimalist dining space, selecting dining table and chairs is equally essential. Choose chairs that complement the design and style of your table; look for dining chairs with clean lines, minimal ornamentation, and complementary colors that tie in with your overall minimalist theme. Upholstery should remain subdued and in keeping with this aesthetic for best results. Ultimately, the goal should be creating a harmonious yet balanced appearance that enhances its simplicity in this way.

Integrating Functionality and Aesthetics in Dining Furniture

Minimalism honors both form and function. When selecting dining furniture, prioritize items that serve a practical purpose without compromising aesthetics. Built-in storage solutions or multifunctional pieces may maximize utility while maintaining an uncluttered appearance - essential components for an enjoyable dining experience! A minimalist dining space should combine visual appeal with functionality for maximum effect.

Establishing an Integrate Design With Home Canvas

Home Canvas is essential in unifying your minimalist dining area, with careful curation creating an artistic expression that complements its surroundings perfectly. Opt for minimalist pieces in selecting artwork, wall decor, and accessories - opt for pieces that resonate with your design theme while adding tranquility - when selecting artwork, wall decor, and accessories for Home Canvas.

Budget-Friendly Solutions

Thrift Store Finds and DIY Ideas

An elegant minimalist dining space doesn't need to break the bank. Explore budget-friendly options by perusing thrift stores like Home Canvas; you may discover hidden gems. Or consider giving existing dining furniture an updated look using DIY methods; painting, refinishing, or reupholstering can breathe new life into old pieces that meet your minimalist vision.

Strategic Investments for Long-term Gain

As part of your budget-friendly dining solutions, making intelligent investments for long-term use is essential. We prioritize quality over quantity when looking for durable yet timeless pieces, focusing on versatile furniture that adapts to changing needs for an uncluttered dining area. Consider investing in furniture with adaptable storage features to keep clutter at bay. You can craft an enduring minimalist dining space without compromising functionality or aesthetics by carefully curating a few quality pieces.
Contact info
71-33RD FLOOR, PRIME BUSINESS CENTER, PRIME TOWER, BUSINESS BAY, DUBAI UAE 
Email: support@thehomecanvas.com
Phone: +971-505579129