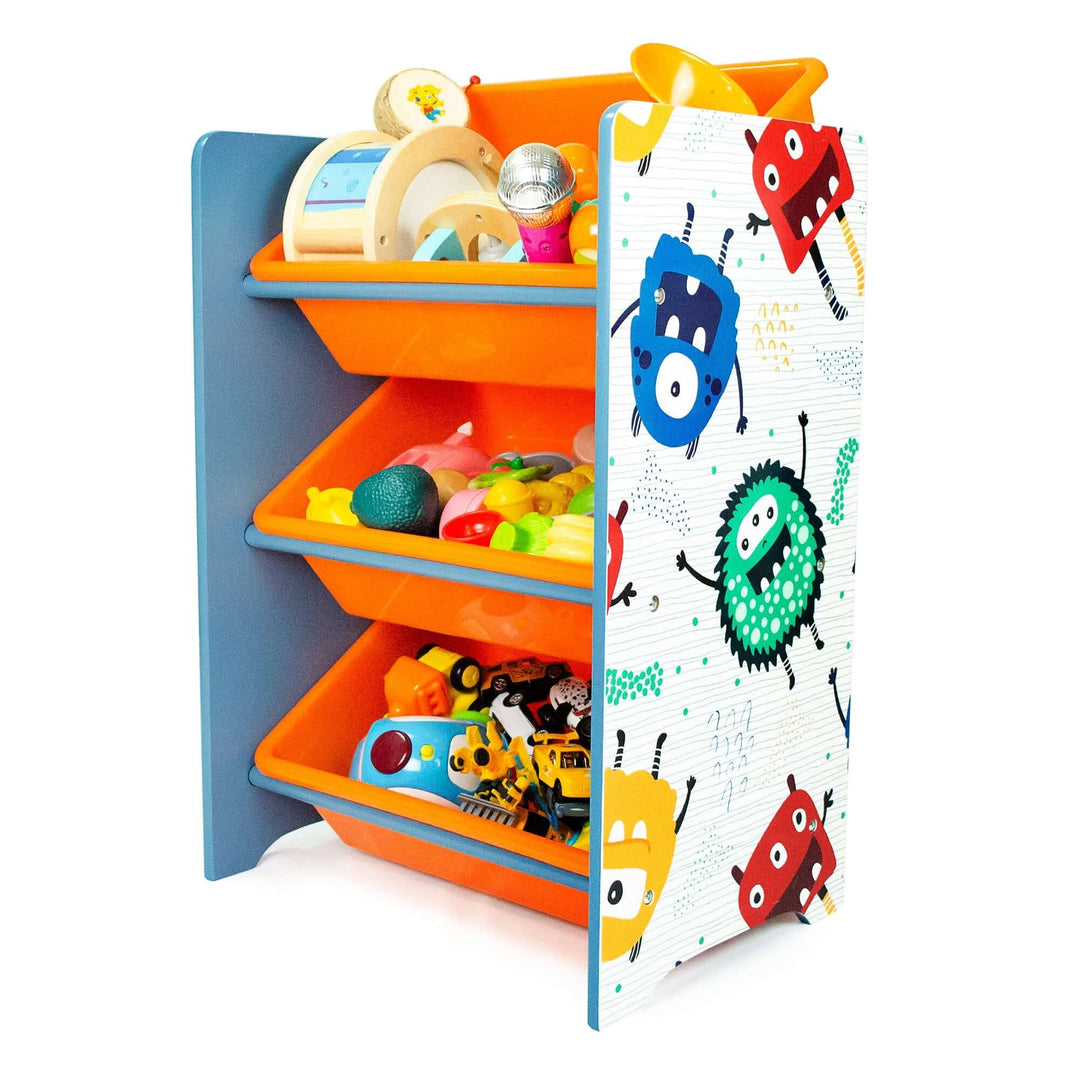 Posted on
---
Finding an appropriate storage organizer for all of your child's toys and organizing them might be a laborious task. The Home Canvas convenient toy storage options that keep their areas clutter-free, you can teach your kids to clean up after themselves. Toy shelf with bins, kids' storage baskets, and other toy boxes are included with the children's toy storage organizer solutions. They have artistic designs with cartoon monsters that make them appealing in your child's room and are sturdy. Additionally, we provide toy containers with a substantial amount of storage space and a sturdy, well-built frame. They are composed of linen, are lightweight, and include a sweet cat image. Your child will enjoy organizing all of their toys, books, and other items on these storage shelves. It is simple to carry from one location to another because of its lightweight features. Teaching storage also entails the discipline and art of remaining orderly. The organizers enable youngsters to pull out or put back toys, books, and other items by themselves due to their tiny size and easily accessible shelf height.
The Home Canvas provides a number of toy storage options to get the clutter away and also help your child to learn organizing skills.
Children Toy Storage Basket
These are the ideal storage solution for a nursery, craft area, workplace, or use as a hamper for dirty laundry. They can be utilized in the kid's room, the bathroom, the bedroom, the shelf, the side tables, and the space beneath the bed. With this mobile storage, you can travel with a tidy, portable home while saving a ton of space. The ideal option for organizing and decorating your house! The storage box can also serve as a decorative element for your house because of its adorable decorations. It may keep your house or office tidy and organized and provide a secure space for your kids to play. Your children can learn a great deal more by organizing their toys, clothes, and books in a storage basket. It can be employed as a storage bag organizer for newborn and infant items. There is plenty of room to store items like burp cloths, diaspora, teething toys, and baby wipes. With its stylish patterns, it can be used as a laundry basket to arrange dirty items or to store a blanket or pillow in the living room, a towel in the bathroom, or both. The basket is portable, foldable, and low in weight, making it a suitable option for traveling.
Toy Storage with Stool Easy Setup Storage Stool
The Toy Storage with Stool has enough space to accommodate anything, including clothes, toys, and other items that you can't store in your child's room. After the play, the Storage Stool can assist conceal all the mess. A sponge-padded top, safe round corners, water-resistant non-woven fabric, and other features make the sturdy MDF structure child-friendly. The non-toxic printing on the beautiful and colorful cartoon images on the MDF structure also helps to make it child-safe. These toy storage units are foldable for simple storage and are simple to clean and maintain. Utilize them as a plaything, a stool, a storage container, or a footrest. Such is the excellent Toys Storage Stool's adaptability.
Deluxe Multi-Bin Toy Organizer with Storage Bins
The toy storage bins have six fabric bins with different-sized supporting bars. Toys of practically every shape and size can fit in the fabric bins, which offer plenty of storage. For easy storage of bigger toys, the bottom tier features a big toy box. This toy bin has a strong frame that supports it, is made of durable MDF and pinewood, and is simple to put up without the use of any tools.
Super Girl Toy Storage
The kids' toy organizer features storage containers that are suitable for kids and a side that is designed with a Super Girl motif that is sure to delight toddlers and young kids. Perfect for use in a playroom, classroom, nursery, etc.
Toys of practically every size and shape can fit in these children's toy storages, which offer plenty of storage. The toy boxes are made with durable MDF and plastics and non-toxic paint is used for their finishing hence making them completely safe for your child.
Unquestionably, using this toy storage option is a fantastic strategy to make cleaning the space more beneficial and enjoyable. Your toddler can effortlessly slide out, transport, and put back in with the help of portable plastic boxes.
Contact info
71-33RD FLOOR, PRIME BUSINESS CENTER, PRIME TOWER, BUSINESS BAY, DUBAI UAE 
Email: support@thehomecanvas.com
Phone: +971-505579129