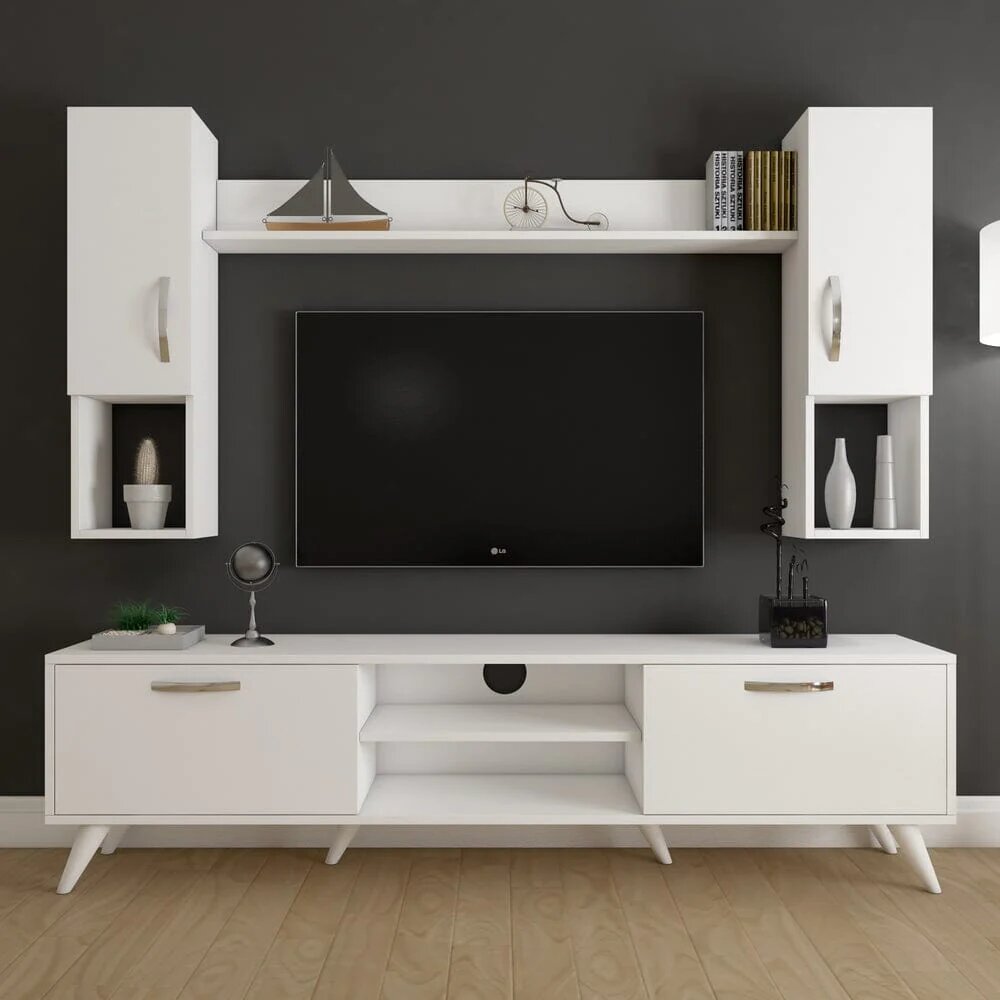 Posted on
---
Be it the entertainment section in your home or your living room, a modern TV stand is one of the most important pieces of furniture to create an organized space. Though the market today presents you with a good number of options when it comes to buying a TV unit, choosing the perfect one for your space can be confusing for many. The blog intends to provide you with simple tips that will help you in picking the perfect
TV units and stands
for your living space:
1. Consider the Dimensions
Considering the dimensions of the TV unit must be a priority! It is recommended that you measure the total space available and the size of your television screen beforehand. Once you are sure about these dimensions, find an entertainment unit that can precisely fit your TV and is also sized perfectly to fit the available area in your living room. While choosing a TV unit that is too small will not fit your TV, picking one that is too large will only take up extra space and make the overall appearance unappealing. Modern entertainment cabinets like the Home Canvas Modern Design Free Standing Coast TV Unit come with a width of 180 cm and are the perfect
TV stands for 75 inch tv
. Entertainment unit that has a width of 150 cm, is likewise, the ideal
TV stand for 55 inch tv
. The Home Canvas Modern Pedestal Design TV Unit with Wall Shelf is one such modern TV unit to consider.
2. Pick Modern TV Units with Lasting Durability
When investing in a furniture piece, the quality of the product is another important consideration. Wooden furniture has been a popular choice amongst the masses for a long time now. Not only does the timeless appeal of wood grab all attention, but the resilience that wood offers is what makes it one of a kind. The Home Canvas Modern Design Porto TV Stand, for instance, comes with a melamine-laminated 18mm top panel chipboard and solid beech wood legs, making this a durable construction.
3. Choose Styles & Colours that Complement Existing Décor
While shopping for a good TV unit for living room, people tend to fall for the most stylish pieces. While the style and design of an entertainment unit should be attractive, it is also essential that they match the existing décor of your living space. If you need something natural and earthy for a contemporary setting, you can pick wooden TV units like the Home Canvas
Modern TV Stand for Living Room
with Wooden Legs. Although it comes with superior-quality wood construction, the white finish of the TV unit will subtly add a touch of style to your modern living room. Those who are a fan of minimalism can similarly opt for sleek and streamlined entertainment units like the Home Canvas Illia TV Unit for Living Room. The neutral combination of metal and slight woody finish allows this piece to easily complement versatile room settings.
4. Opt for TV Stands with Enhanced Functionality
Besides being a stylish piece of furniture to display your television set, a modern TV stand can also provide you with enhanced practicality. TV Cabinets with storage are popularly being used as a media tool, an easy storage option for your accessories, and even a display area for your accent pieces. The Home Canvas Modern Design
Lush Tv Unit with Wall Mounted Shelf
, for example, features a long wall shelf with two bottom drawers and a three-section wall shelf, designed with absolute sophistication. With a functional piece of furniture like this, you can easily organize and store TV cables, remotes, batteries, and other basic essentials. The well-designed shelves of this cabinet can similarly be used to accentuate your showpieces.
To Sum It Up
With these simple tips given, buying the perfect modern TV unit will be a doddle. While shopping for an entertainment unit, it is quite important that you shop at the right place. For utmost convenience, you may browse through popular furniture websites like
The Home Canvas
. Explore the wide range of TV units available and shop for the one that matches your preferences.
Contact info
71-33RD FLOOR, PRIME BUSINESS CENTER, PRIME TOWER, BUSINESS BAY, DUBAI UAE 
Email: support@thehomecanvas.com
Phone: +971-505579129