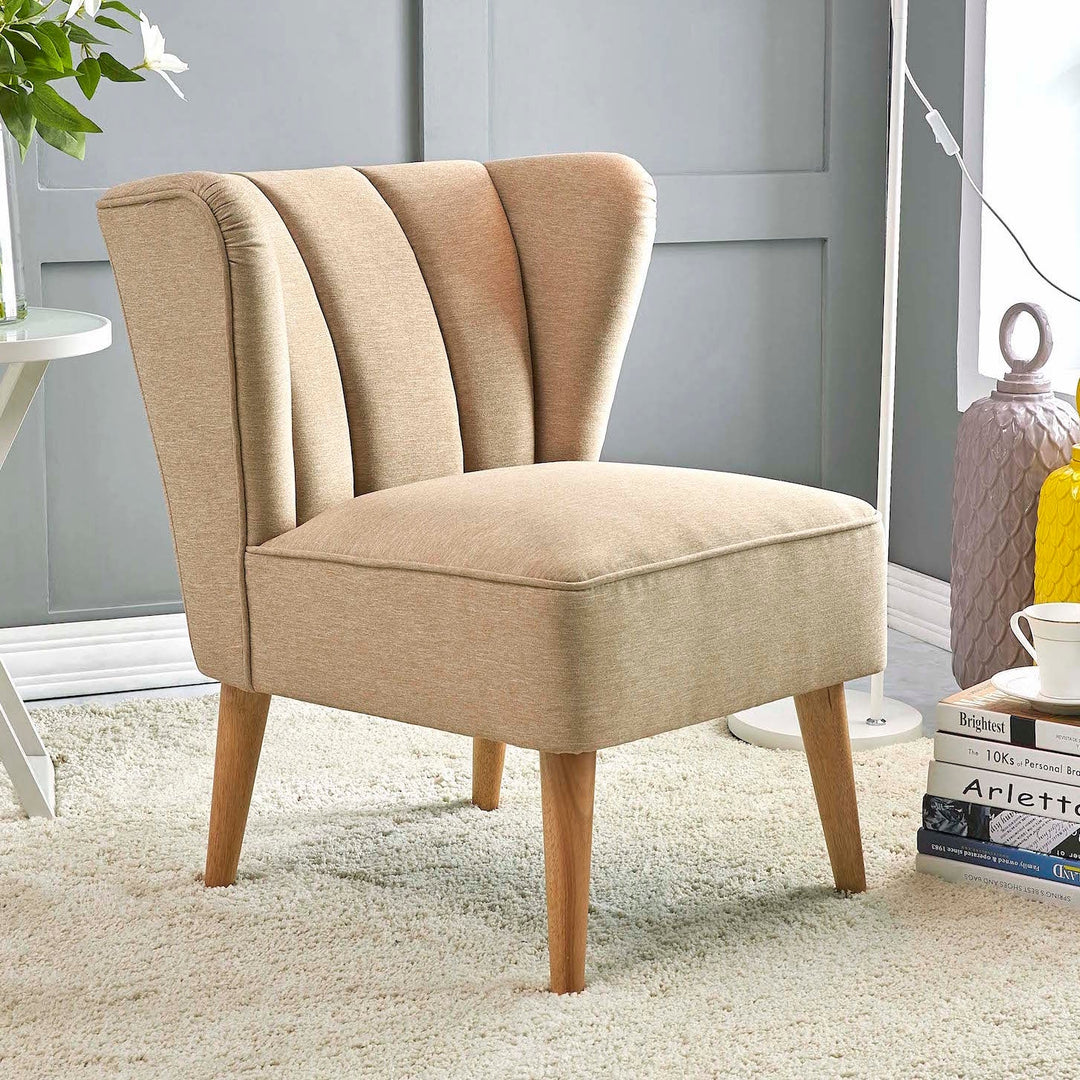 Posted on
---
Experience the finest blend of comfort and style with the exquisite collection of creatively-designed sofas and chairs featured at The Home Canvas. Be it the stylish Wingback Chair, or Arm Chair with Ottoman, all these seating chairs will offer you comfort with the softest cushion back and at the same time improve your body posture. Decorate your room interiors by adding a fine touch of style to them with the exclusive collection of modern armchairs and sofas. The accent chair comes with a solid wood-constructed frame and legs that offer both durability and resilience. It also has studded detailing that adds to the style quotient and sets it apart from the regular chairs. The vibrant colors and innovative appeal of this furniture are sure to bring a lively vibe and enhance the appearance of your room interiors.
Wingback Chair
The tulip wingback chair features vibrant blue and light brown colors that look quite attractive. These classic wingback designs and wooden-legged chairs are suitable to be placed in the bedroom or living rooms. Featuring a no-arm design, the wingback chair has a lightweight body and saves a lot of space. The smooth channel stitching on the seat uplifts the overall appearance of the chair. Manufactured with the highest-quality wood, the modern dining chairs offer enhanced resistance to abrasions and damages. The sturdy construction and solid wooden legs ensure long-lasting performance and the chairs are specially crafted to withstand pressure and weight. The tulip accent wingback chair is equipped with a foam padded cushion seat and back support which lets you sit in comfort even while being on it for a prolonged period of time. While being easy to maintain and move around, the armchairs are also ideal to sit and enjoy a relaxing experience while watching your favorite TV show while having some snacks.
Arm Chair with Ottoman
The smartly-designed armchairs for living room come with an ottoman and look quite modish when placed in your living rooms, bedrooms, study rooms, or home office. Apart from home interiors, the arm chairs may also be placed in your offices, studios, and hotels and give a sophisticated look. The armchair features grey and brown colors that perfectly compliment almost all colored walls and interiors. Made with a premium quality wood construction, these armchairs offer the utmost resilience. The wood chair also comes with soft cushioning and dense foam padding that ensures a comfortable seating experience and prevents backaches or neck pains. The leather-like fabricated living room chair and ottoman give an elegant finishing touch and are free of wear and tear. This practical combination gives you a complete lounging vibe, so you can comfortably place your feet up and take a good nap on the armchair and ottoman.
Corner Sectional Sofa
Featuring a sleek urban look and sturdy construction, the luxe corner sectional sofa is designed in the Scandinavian style and is perfect to add a stylistic touch to your home interiors. The corner sofa comes in the contemporary L-shape and is finely constructed with premier-quality plywood and Eucalyptus wood ensuring a robust structure and heavy-duty usage. The sofa also comes with a soft fabrication and padded cushioning to give you a comfy and relaxing feeling. Rest up your arms with the squared armrests and your legs on the chaise lounge. While the sectional sofa gives room for more seating, it also has a feasible design to consume less space. The chaise lounge can be assembled to the right or the left side as per your preferences. This sofa will look perfect with almost all layouts and is quite easy to be shifted and maintain. So, you can transform your living space most conveniently.
Contact info
71-33RD FLOOR, PRIME BUSINESS CENTER, PRIME TOWER, BUSINESS BAY, DUBAI UAE 
Email: support@thehomecanvas.com
Phone: +971-505579129